Eagle Chapter Air Force Security Forces Association consists of Air Force Security Forces Association Members who work or live in Washington DC, Delaware, Maryland, Virginia or West Virginia. If you are a member of the association and live or work in one of these areas and you do not receive a periodic chapter update via email, Contact us by clicking here.
The photos above, far left and at right, represent our most critically important endeavor - supporting Air Force Security Forces Airmen who are medically evacuated from a combat zone to the Walter Reed Bethesda National Military Health Center. Our visit includes the presentation of a check that the Airman may use to help offset living expenses of his family members while they are visiting him or her. Our visit also helps as a morale booster - we present a chapter coin, a coin rack, a get well card, and flowers to help cheer up the room. We also provide a Defensor Fortis flag. We can assist units and personnel in contacting the Airmen when he or she is ready.

In the middle photo above, Eagle Chapter Member Lt Colonel Jennifer Aquinas lays a wreath at the Women in Military Service to America Memorial (the Women's Memorial) during Memorial Day services. Eagle Chapter lays wreaths at the Air Force Memorial, Vietnam War Memorial, Vietnam War Women's Memorial, the Korean War Memorial and the World War II Memorial at Memorial Day and Veterans Day.

Eagle Chapter is an IRS-approved, 501(c)(19) Veterans Services non-profit organization. We hope you will consider us in your charitable donations. Click on the donate button below or contact our chairman if there are any questions.
---
Proud Warrior Support to Critically Wounded Security Forces Airmen who are medically evacuated to Bethesda Walter Reed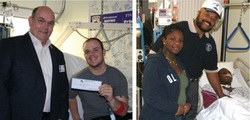 Since 2004, Eagle Chapter has been visiting and donating to wounded Security Forces Airmen who have been evacuated from Afghanistan or Iraq to Walter Reed/Bethesda Walter Reed Medical Center in the Proud Warrior Program. Starting with a donation of $100.00 back in 2004, through your donations, the association now gives $500.00 to each wounded Airman. In 2011, HQ Air Force Security Forces Association began operating the program. Eagle Chapter continues to visit and assist critically wounded Security Forces Airmen who are medically evacuated to Walter Reed Bethesda Maryland. This year, we began monthly Proud Warrior/Eagle Chairman Lunch where our Chairman takes the Airman out for lunch as his/her schedule/condition permits.
Click on the images below to see a larger view of our activitiy and visits with our Proud Warrior Program. Also see our
Events page
. See the "About Us" page for more information about our chapter, board of officers and the Airmen we serve.
---
---
Please see our Events Page for information about our current activities.
Vietnam War Memorial Wall Wash, Chapter Luncheons and other evets are just a few days away.
See the Events page
.
---
Donations.
Your tax-free donations make it possible for us to continue to serve. To make a donation, click on the "Donate" button below. You can also send a check or money order to the address shown below. To volunteer to help us serve, contact our Chairman by
clicking here
. Thank you for your consideration and continuing support.