The Langley Base Honor Guard prepares to post the colors for the Eagle Chapter Luncheon held May 7 2014 at Joint Base Langley Eustis Virginia.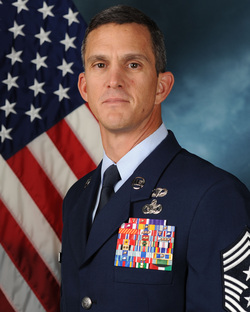 Chief Master Sergeant Richard A Parsons, Command Chief Master Sergeant HQ Air Combat Command, was the special guest speaker for the Eagle Chapter May 7 2014 Luncheon at Joint Base Langley Eustis Virginia.

In this role as command chief Chief Parsons is the enlisted advisor to the commander and staff for the enlisted force stationed at 27 wings, 17 bases and at more than 200 operating locations around the world.

Chief Parsons provided remarks to attendees that included members of the base as well as local police officials from the cities of Newport News and Hampton.

For the chief's complete bio and the luncheon program see the attachment following the luncheon photos.

Eagle Chapter provides free attendance to chapter luncheons for Staff Sergeants, E-5s and below. The luncheons provide a service for the security force attendees to meet and hear candid remarks from senior officials and to also meet former security force, security police and Air Police members of the chapter.

---
---
---
---